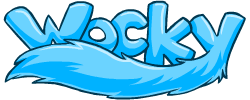 The Wocky (WOCK-ee) are one of many different species that exist in Neopia. As a general rule Wockies are bold and adventurous. They are often the first to explore new territories and dare to do things that other species would rather not.
Wockies are not native to any specific region of the world, having a keen sense for exploration and a coat that keeps out most kinds of harsh weather. They apparently have a heightened sense of smell, something that would be hard to guess looking at their small noses, as well as very sharp visual perception and good hearing, making them all-round alert and observant pets.
Site description: "Wockies are brave, adventurous Neopians. They love to explore new territory and discover hidden treasures." [1]
Appearance
Wockies look like Persian Cats with uncurled squirrel tails with a neck ruff.
The basic design of the Wocky has changed fairly little over the years, but the ruff has shortened and more fluffy fur has been added to the brush, which in the earliest art looks like the Aisha's thick but sleek tail.
Available Colours
They come in 56 different styles. Those styles are the following:
Expand/Collapse Gallery
begin
Expand/Collapse Gallery

end
Unconverted Colours
Some colours of Wockies were exempt from auto-conversion when Neopets updated the pet art.
Previous Versions
Wockies were released at the launch of Neopets 15 November, 1999.
Famous Wockies
Related
Gallery
Trivia
External references
Community content is available under
CC-BY-SA
unless otherwise noted.