You can collect Plushie toys for your pet to play with and to make it happier.
Like stuffed animals in real life, many of the plushies look like Neopian species. Some examples are Green Hissi Plushie, Blue Peophin Squishy Plushie or Blue Kacheek Plushie. There are also Neoquest plushies, such as Jahbal and Faleinn. Other plushies are based on famous characters, like the Poptart Plushie or Island Mystic Plushie.
There are many, many different plushies, some even resemble plants, such as Blue Fan Flowers Plushie and Pebeanjay Flowers Plushie. There are plushies of petpets as well such as Dung Meepit Plushie and Snow Yooyu Plushie. There are also plushies of the TNT such as Poptart Plushie and Number Six Plushie. There are even plushies of plot characters and other famous Neopians like Handmade Taelia Plushie, Coconut Shy Quiggle Plushie and Brightvale Glaziers Plushie. Another type of plushies are the ones from the Deserted Fairground, plushies that are ripped apart or sewn together with other plushies like Sloth Faerie Plushie and Headless Von Roo Plushie. Plushies of items also exist, like Goparokko Staff Plushie and White Snowball Plushie.
Plushie Avatars
If you have a Koi Plushie in your inventory (magical or not), and you view the look-up of any painted Koi here you will get the [Koi - Spotted] Avatar
If you have any Scorchio Plushie (magical or not) in your inventory and visit here you will get the [Scorchio - Scordrax] Avatar
If you have a Zafara Double Agent Plushie (approx 3,500,000NP) in your inventory and type "Zafara Double Agent" in the bottom search bar you will get the [Zafara - Double Agent] Avatar
If you donate any item with the word "plushie" (cheapest is Headless Von Roo Plushie for 1np) to the money tree via the pop-up window not quick stock you will receive the [Plushie!] Avatar
If you have a Malevolent Sentient Poogle Plushie (approx 200,000,000NP - yes 200 million NP) and you view your inventory you will get the [MSPP] Avatar
If you reply to any NeoBoard with the text "squawk" with no HTML, or anything else you will receive the [Plushie Eyrie] Avatar
Real-World Plushies
There are many different real-life plushies. They were sold at Limited Too, but were discontinued in 2008. After the line of Limited Too plushies were no longer sold, a new line of real-life plushies came out, called Key Quest, which had codes to enter online. They are no longer sold.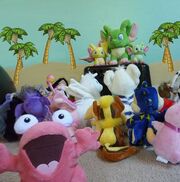 Related