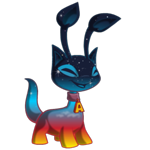 | | |
| --- | --- |
| While we try to make Neopets as safe and friendly as possible, there are still some things you need to bear in mind. If you are in any doubt using the Internet or Neopets, talk things over with your Mum, Dad or a responsible adult who will know what to do. | |
1. Never supply any personal information to another user on Neopets. Neopia is its own world. Other users do not need to know your real-world telephone number, email address, home address, IM screen name, or where you go to school. Keep that information private. Also, don't post personal pictures of you and your family. This rule applies regardless of age, and you will be warned (and possibly frozen) if you disobey this rule. Never give out personal information online. Your real name, age, where you live, phone number or school.
| | |
| --- | --- |
| | 2. Don't ever give out your password to anyone (on or off the Neopets site). Neopets staff members will not ask you for your password, and we will NEVER e-mail or NeoMail you to get your password. Also, don't give anyone your Neodrive URL (because it shows your password). Watch out for fake log-in screens - some people are copying our login box and posting it on their personal web pages to trick people into entering their user names and passwords. Look at the URL - if it says anything other than www.neopets.com, DO NOT enter your user information. For example: WARNING : PLEASE CHECK THAT THE URL OF THIS PAGE IS REALLY MARAPETS.COM If anyone does try to get you to reveal your password, please let us know immediately by using this form. Never share your password with anyone, except your parents. Someone else might use your password and pretend to be you. |
Remember, EVERYONE who uses that computer can get into your Neopets account.
3. Be careful who you talk to on the web. If somebody says something to you, sends you something, or you see something that makes you uncomfortable, don't look around or explore. Get your parents instead - they will know what to do. If this happens on the Neopets site, please let us know by using this form and we will take the necessary action. Also, remember that nothing you write on the web is truly private - be careful and think before you type!Every message is filtered to prevent inappropriate language, or personal information appearing on the site.
4. All REAL Neopets activities and games are contained within the Neopets site. Delete e-mails, files, or web pages that you get from people you don't really know or trust. Sometimes people post links to viruses around the Internet, including on the Neopets site, saying the links lead to other Neopets stuff. (For example, they claim the link is to a NeoHelper program, Neopoints.exe, or a Scorchy Slots program.) Don't be fooled! Links like these go to nasty viruses that can seriously damage your computer. Also, beware of fake Neopets "competitions" and "trades." If they're not located within the Neopets site, then they are not endorsed by us and you are proceeding at your own risk. Don't Forget: no one needs your password to send you an item or for any other reason!

Some items are

bait items

. If permed it will result in a forever freeze.
5. Be careful about in-person meetings. Meeting up with people you meet online is not always a great idea, but if you want to, there are 4 very important rules you should stick to.
Meet only people you feel you know well, have known for a long time, and only with your parents' knowledge and permission. Choose a nickname that doesn't give away your real name, or location.
Meet in a public place, such as a mall.
Go with a parent or 18+ sibling (even if you are an adult yourself)!
Make sure the person you're meeting is not alone, but coming with a parent/other adult.
| | |
| --- | --- |
| | 6. Neopets is FREE, but not all sites are. Don't ever do anything on the Internet that could cost your family money unless your parents are there to help you do it. |
NC items cannot be exchanged for NC, Neopoints, or Neopoint items. Some NC items may be sold for a limited time only and/or be limited to a specific number of uses (most items offer unlimited uses). Please review the complete details of an item (by clicking on it) before purchasing it. All sales are final. There are absolutely no refunds for Neocash purchases.
7. Always follow your family's rules for the Internet. They're there to make sure you have fun and stay safe online. If someone does or says anything online to make you feel uncomfortable, tell your parent or guardian straight away. Don't feel like you're in a website where there are no rules! We will freeze people we see doing this because it's cheating!'
Community content is available under
CC-BY-SA
unless otherwise noted.