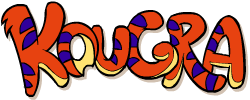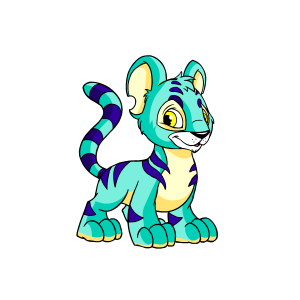 Kougra (koo-gra) are tiger-like Neopets native to Mystery Island. They primarily eat big, juicy fruits, and love to tackle and pounce when they play. 
Kougra are 65cm (2.13ft) on average, making them one of the medium sized Neopets.[1]
They are not limited edition, meaning you can create one any day of the year.
Site description: "Kougras were discovered in the deep forests of Mystery Island, feasting on the exotic fruits also found there. One of the Kougra's favourite games to play is coconut bowling, and they just LOVE to practice pouncing on each other. What else would those enormous paws be good for?"[2]
Available Colours
Below are all possible colours for Kougra. Hit "Expand" to see every one!
Unconverted Pets
Some colours of Kougra were exempt from auto-conversion when Neopets updated the pet art. Click "Expand" to see all possible unconverted Kougra.
Previous Versions
Kougras were first released on 3 August, 2000 upon the discovery of Mystery Island, but were not made officially available until 9 August, 2000.
Famous Kougras
Links
↑ Pet description http://www.neopets.com/petinfo.phtml?type=Kougra&r=561