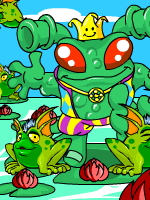 Kiss the Mortog is a Luck/Chance game in Meridell on Neopets.
Site description
" Pay 50 Neopoints to pick the one to kiss between two Mortogs. It might be a prince or princess, or it might just EXPLODE!... eww! ick! "
Avatars
The main avatar, Mortog Smooch, is rewarded by guessing the correct Mortog over 4 rounds and collecting at least 5,900NPs worth of winnings. Another avatar, Flee!, requires being in the Top 50 on the Kiss the Mortog High Score table. Recipients will receive a Neomail confirming their avatar.
External links