The Haunted Woods is a location in Neopia on Neopets.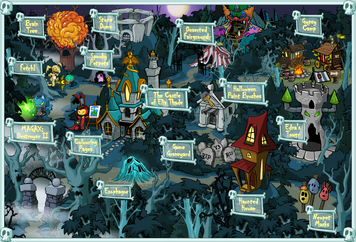 Site Description
" The spooky Halloween land! Who knows what evil lurks within these environs? Read scary stories, embark on chilling quests, and beware the beast that lurks behind the tree... "
History
1,000 years ago, according to Neoquest, The Haunted Woods was once The Haunted Plains. It is unknown how this changed.
During the Tale of Woe plot, it is revealed that Neovia was once a fairly prosperous area in the woods, before the denizens were tricked by Mr. Krawley into drinking potions that twisted their wishes, and later cursed. The curse was later reversed, and then the effects of Mr. Krawley's potions reversed.
Sub Locations
Sub Sectors
Games
Quests
Notable Residents
Former Residents
Unconfirmed Residents
Other
Trivia
Gallery