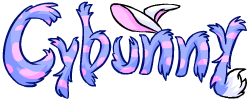 The Cybunny (sigh-bun-ee) is a thick furred rabbit originating from Terror Mountain. They enjoy playing snow related games and love to eat, especially when they can do so with friends.
Cybunny are 32cm (1.05ft) on average, making them one of the smaller Neopets.[1]
They are Limited edition, meaning they can only be created on their special pet day (April 27), gotten from a morphing potion, or gotten from the lab ray.
Site description: "Cybunnies live in the coldest regions of Neopia. Their thick fur coats keep them warm, and they can easily disguise themselves amongst the snow. Young cybunnies love to frolic in the cool winter air and like nothing better than a good game of Snow Wars."[2]
Similar Species
Available Colours
Below are all 70 possible colours for Cybunnies. Hit "Expand" to see every one!
Unconverted Pets
Some colours of Cybunnies were exempt from auto-conversion when Neopets updated the pet art. Click "Expand" to see all possible unconverted Cybunnies.
Previous Versions
Here's a little history lesson for you: Cybunnies didn't always have their eyes open! They originally had smaller heads and tails. The newer Cybunny design made them much fluffier and more proportionate, however.[3]
Famous Cybunnies
Links
↑ Pet description http://www.neopets.com/petinfo.phtml?type=Cybunny&r=776
↑ Previous versions https://bookofages.jellyneo.net/history/old-pets/?species=cybunny
Community content is available under
CC-BY-SA
unless otherwise noted.