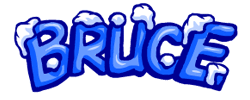 Bruce (brooce) are penguin-like Neopets originating from Terror Mountain. They love playing snow and ice related games, but are also very competitive.
Bruce are 80cm (2.62ft) on average, making them one of the medium sized Neopets.[1]
They are not limited edition, meaning you can create one any day of the year.
Site description: "The Bruces love competition, and they love to dance. You will often see them having major dance-offs in Happy Valley. The last Bruce standing wins."[2]
Available Colours
Below are all 59 possible colours for Bruce. Hit "Expand" to see every one!
Unconverted Pets
Some colours of Bruce were exempt from auto-conversion when Neopets updated the pet art.
Previous Versions
The Bruce was originally called the Bruce Forsyth, after the real-life English television entertainer of the same name. Instead of using a tinted photograph, the Bruce became an illustrated picture. It was redesigned on November 16, 2000 to better fit in with the other Neopets. In their finalized design, the Bruce was drawn to appear cuter and more friendly. Bruce Forsyth's bow tie was changed into a large bow that adorns the Bruce's neck.[3]
Famous Bruces
Trivia
The unconverted Ice Bruce was drawn to look like a Strawberry Brucicle, while the converted version looks more like it's made out of ice cream instead.[4]
Links