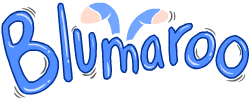 The Blumaroo (blue-mah-roo) originates from Roo Island. They are friendly Neopets that enjoy playing games and bouncing around on their long, springy tails.
Bloomaroo are 100cm (3.28ft) on average, making them one of the larger Neopets.[1]
They are not limited edition, meaning you can create one any day of the year.
Site description: "'Blumaroos love to bounce on their long tails. They are joyful creatures who are often seen hopping through the tropics of Neopia whistling happy tunes." [2]
Available Colours
Below are all 70 possible colours for Blumaroos. Hit "Expand" to see every one!
Unconverted Pets
Some colours of Blumaroos were exempt from auto-conversion when Neopets updated the pet art. Click "Expand" to see all possible unconverted Blumaroos.
Previous Versions
Blumaroos were originally drawn with a crease between their noses and mouths, giving them a floppier look. Some small cosmetic changes were made, but the basic outline stayed the same. Post-customisation Blumaroos were drawn in an entirely different pose, hiding their heart-shaped feet from view.[3]
Famous Blumaroos
Petpet Match
Petpetpet Match
Links
↑ https://bookofages.jellyneo.net/history/old-pets/?species=blumaroo Previous versions
Community content is available under
CC-BY-SA
unless otherwise noted.