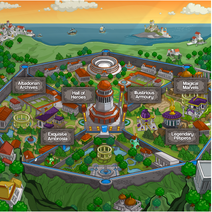 Altador is a location in Neopia on Neopets. Altador's original name was Talador.
History
" Once a mystery, this land reappeared in Neopia after a thousand-year absence. It has a rich and heroic history... and a really exciting sports tournament! "
Altador first appeared on the map on March 1, 2006. It housed the real life video game Neopets: The Darkest Faerie. Its first major moment on the website came on March 17, 2006, with the beginning of the Altadorian Plot.
Due to the high attendance in the Altador Cup XIII, King Altador has declared that Altador be spruced up a bit, and it has!
Sub Locations
Plots
Events
Trivia
Gallery