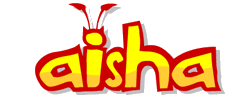 The Aisha (eye-shah) is a multi-eared Neopet that is, in general, very intelligent and skilled in magic and have mystical psychic abilities. There are also six-eared alien Aishas who own a vending machine in Neopia Central; it dispenses weird food, rare items, and Neopoints. It is unknown if the four-ear and six-ear variety are related, but it is known that the six-eared Aishas are not from Neopia! However, the normal Aishas can take some consolation in the fact that the Lab Ray provides an Alien colour for their species alone, complete with a space helmet, which they can use to play these extraneopian creatures.[1]
Aisha are 40cm (1.31ft) on average, making them one of the smaller Neopets.[2]
They are not limited edition, meaning you can create one any day of the year.
Site description: "Aishas are strange creatures with special abilities. They have acute hearing and a penchant for magic."[3]
Available Colours
Below are all 71 possible colours for Aishas. Hit "Expand" to see every one!
Similar Species
Unconverted Pets
Some colours of Aishas were exempt from auto-conversion when Neopets updated the pet art. Click "Expand" to see all possible unconverted Aishas.
Previous Versions
The key elements of the Aisha's original design have withstood the test of time and has changed very little since the site's inception. This first version was a lot flatter than later looks. Aishas received more detailed artwork, and they can now proudly display the 'A' on their collars.[4]
Famous Aishas
Mrs. Prenderghast
Zephiea Boltheart
Captain Xelqued
Trivia
The Red Aisha Morphing Potion was the first species-transforming item ever to be released. It came complete with stern warnings in New Features about the strange effects it might have on an unsuspecting Neopet!
Links
Community content is available under
CC-BY-SA
unless otherwise noted.