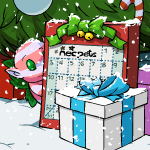 The Neopets Advent Calendar only works in the month of Celebrating (December). Every day of that month, you can come to this place to get a daily free gift. It gives out Neopoints and items such as Toys, Food, Books, a Petpet, and Neocash items. Every day in the month of Celebrating, a new Christmas related video can be seen at the Advent Calendar.
Items will be hidden in each day's animation and reward a special prize if discovered.
Archives
Each day of December, the Calendar shows an animation, usually related to the items you receive. The Advent Calendar Archives is where you can see all the animations that were showed during all the Calendars. The first was in Y2 (2000) and we're having the ninteenth calendar in 2018.
External Links